Auto Sprayer for PDC Machine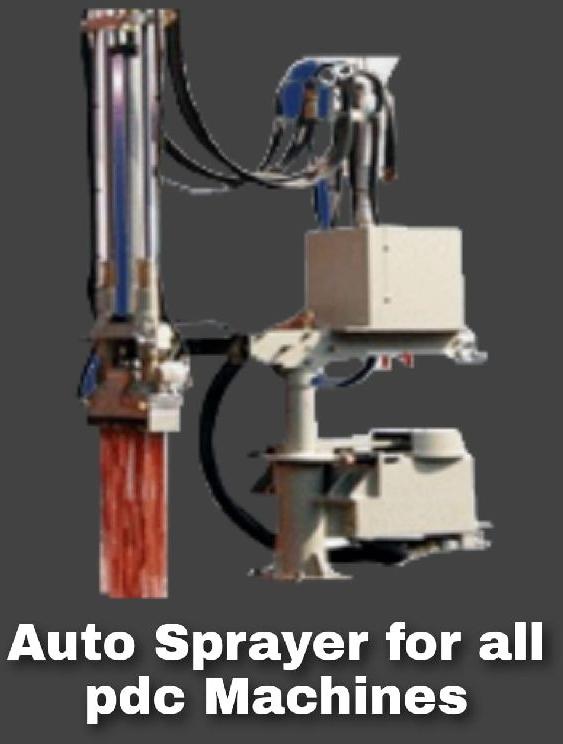 Business Type
Manufacturer, Exporter, Supplier
Power Supply
220V / 50Hz
Spraying Time
Fixed Mold 9.3secs. (Max) / Movable Mold 9.3secs. (Max)
Water Volume for Release Agent
Water volume for fixed  and movable mold is adjustable
Click to view more
Product Details
Release Agent Inlet
1/2 Inch
With front base or rear base options, can increase production speed, the machine is robust.
It can be used independently or interface with die cast machine, extractor, ladler and press machine to from complete automated production.
Installed with at least two G.S.M custom-made atomizer, to improve the spray in both stationary and moveable die, adjustable water volume, and the effect of atomization becomes more prominent when doing thin casting.
Die release agent spray time can be done separately for stationary and moveable die.
It can carry out air blowing operation while ascending, simultaneously cleaning the stationary and movable die while ascending, maintaining a clean mold surface.
The spray volume can be regulated.
The ascending and descending speeds are stable; descending speed can be abruptly reduced in order to extend the life of shock absorber. Equipped with anti-drop locking device, this will prevent the spray head from dropping in case of air pressure cat-off.
Spray can also be installed on middle row, allowing use of two different release agents that would give better results.
ses PLC control circuit, with build-in error code display for maintenance.
Technical Specifications
Discription
SGSM1
SGSM2
SGSM3
SGSM4
Machine capacity
100T-250T
300T-400T
500T-800T
900T-1200T
Fixed mold of copper-pipe
18
21
25
Center mold of copper-pipe
17
19
24
Movable mold of copper-pipe
19
21
25
Air-compressor source
4.5-6kgf/cm2
Air Pressure inlet
1"
1 1/4"
Mold-leaving solvent
6.5kgf/cm2
Release agent inlet
1/2"
Scope of mold's thickness
±150MM
±200MM
±500MM
Ascending Time
1.0s
1.2s
1.6s
2.0s
Descending Time
1.2s
1.6s
2.0s
Number of atomizer
2
2
Length of spray head
350MM
420MM
480MM
length of cupper pipe
Long
470MM
570MM
670MM
Short
470MM
470MM
570MM
Power supply
- 220V50Hz
Spraying time
Fixed Mold 9.3secs. (Max)
Movable Mold 9.3secs. (Max)
Water volume for release agent
Water volume for fixed and movable mold is adjustable
Center distance
Center Distance Between Fixed Mold
And Atomizing Nozzle is 100MM±15MM
Weight
250KG
530KG
580KG
800KG
Looking for "
Auto Sprayer for PDC Machine

" ?
Piece